For the price, this is a decent freezer, although it's not without its flaws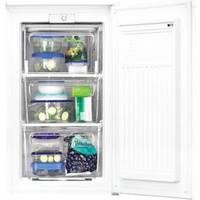 If you're on a budget and fancy a brilliant little under-counter freezer – one that may have its flaws but freezes with the best of them – then you ought to consider the Zanussi ZFG06400WA or you might miss out on an absolute bargain.
This offering from Zanussi is diminutive indeed. With a height of 84.7 cm and width and depth of 49.4 cm, it's easily small enough to slide under almost any counter. It has three compartments and an overall capacity of 63 litres, so would make a great freezer for a couple or as an add-on to your existing freezer. The reversible door is a nice touch to ensure your freezer opens in the same direction as your cupboard. The thermostat is accurate, although tricky to use (requiring a tool to adjust), and the freezer is generally very quiet. This is largely where the whistles and bells end, as the ZFG06400WA is designed to be a basic model. Which unfortunately means it's also not frost-free – requiring a manual defrost when there's too much ice build-up.
At the business end of things Zanussi has designed a freezer that does what it says on the tin – and quickly. It freezes brilliantly and maintains its cold temperatures whatever the weather. Its A + energy rating also ensures that it won't add significantly to your electricity bill.
If there's a flaw with this model it's in its drawer system. Opening them can be a fiddly business, with the handles not fit for purpose; and there's no anti-tip device to stop them dropping when fully extended. They're also annoying difficult to clean – but apart from these bugbears this isn't a bad freezer at all.
What's hot:
Freezes very quickly
Maintains steady temperatures
Inexpensive
What's not:
Difficult to clean, with fiddly drawers
Requires manual defrosting
Thermostat needs a tool to adjust
Why you should buy it: UK buyers are advised that although tricky to use and clean, the Zanussi ZFG06400WA is incredibly cheap and does an exceptional job of freezing quickly and evenly.