This condenser drier works quickly and effectively, and has some great features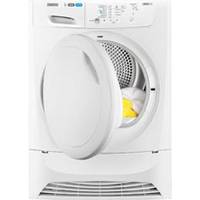 This is an effective condenser tumble dryer from Zanussi that dries quickly and comes with some great features such as sensor drying. UK buyers should definitely include this one on their shortlist.
The Zanussi ZDC8202P is a condenser dryer, meaning the moisture removed from your clothes will be deposited simply in a collector which needs occasional emptying. The dryer has dimensions of 85 cm (H) x 60 cm (W) x 60 cm (D) and can take a maximum load of 8 kg – more than enough for a medium-sized household. The door opens very easily with a nice wide aperture, granting the user easy access, and there's a clear LED display so you always know what programme has been selected and how much time is remaining in the cycle.
There are many useful features here, from the reverse action drum to reduce creasing, to 'sensor drying' that detects the moisture level of your load and stops when it's dry. This not only saves energy, but protects your fabrics from heat damage, although if you prefer there's still a manual, timed option. You also get a 9-hour delay timer if you need to push back the cycle to a more convenient time, an iron-dry program to leave your clothes with a bit of dampness for optimum ironing, a quick-dry setting if you're in a hurry, and a child lock. There is also a water full indicator for the condenser container, a lint-cleaning alert, and a 'freshen up' option to lightly toss and air dry fabrics that may have been in storage too long.
The performance of the ZDC8202P is excellent. Clothes and other fabrics dry very quickly and evenly. The auto-programmes are pinpoint accurate, judging the cycle lengths according to each fabric type to perfection. Clothes are left largely creaseless and ready to be put straight back into your drawers and wardrobes. The energy efficiency rating of 'B' isn't the highest but this is still a cost-effective model, while the noise level of 64 decibels is just about average.
What's hot:
Great at drying evenly and quickly
Accurate auto-programmes
Good sensor drying
What's not:
Average noise rather than quiet
Energy rating of 'B'
Some users have found it a little complicated to use
Why you should buy it: This is a very effective condenser tumble dryer from Zanussi and shouldn't disappoint any buyers. There are lots of great features and it performs its primary function – drying – as well as any.