Small but mighty, this beautiful machine delivers delicious coffee with no fuss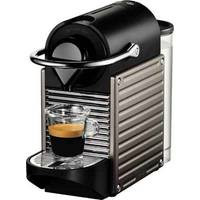 For caffeine craving coffee connoisseurs, there's no brand quite like Nespresso. Specializing in pod machines, they produce some of the market's most desirable coffee makers, known for their clever features, dashing good looks, and delicious results. The Nespresso Pixie is the child prodigy of the family, offering smart coffee-making technology in a petite package.
Whilst many of today's coffee makers dominate the kitchen counter with their impressive, but hulking designs, the Nespresso Pixie isn't what you'd call an attention-seeker. No bigger than the average kettle, it fits into even the smallest kitchens and kitchenettes. Beautifully finished in shiny aluminium and resembling a scaled-down version of what you'd find in a trendy coffeehouse, the Nespresso Pixie certainly looks the part. What's more, it's available in a range of eye-catching colours, including red, blue, and fluorescent yellow, as well as regular black and silver finishes. As such, style-conscious coffee drinkers are bound to find a shade that fits into their existing kitchen décor – or one that adds a bit more flair.
Not just a pretty face, the Nespresso Pixie is quite the workhorse when it comes to making delicious coffee pronto. You simply insert your favourite Nespresso coffee capsule using the lever handle, and use the two programmable espresso and lungo buttons to get it going. When it's ready to pour, a pivoting drip-tray ensures there's no mess on your work surface, keeping the whole process quick, simple, and fuss-free. That's not all though. The Nespresso Pixie is loaded with clever features, including water level detection, one-touch automatic cup size buttons, and a removable water tank, which makes cleaning a breeze. Another handy addition is the brand's newly designed heating element, which requires a third less descaling, making the machine wonderfully low maintenance to boot.
Of course what use is a stylish, innovative pod coffee maker if the coffee itself isn't any good? Well, being the discerning coffee snobs that they are, Nespresso proudly claim that only 1 or 2% of the world's coffee meets their exacting standards when it comes to taste and aroma. So you can be sure that you're getting the best. The only issue will be selecting a flavour. There are over 20 Nespresso Grand Cru coffee capsules to choose from, arranged into categories that include intense, espresso, pure origin, lungo, and decaffeinated. For those that like milk-based coffees, Nespresso's Aeroccino3 milk frother is the perfect accompaniment to the Pixie coffee maker, allowing you to create a range of frothy delights in no time at all.
What's hot:
Super compact
Fast and simple to operate
Incredibly low maintenance
What's not:
Noisier than some other machines
Requires Nespresso-branded pods
Pods can be expensive and are mostly available online only
Why you should buy it: If you're after smooth, superior coffee in under 30 seconds, the Pixie needs a (very small) place in your kitchen. It's virtually fool-proof to operate and you can choose a colour to match your other appliances / mood. They don't come much better than this.